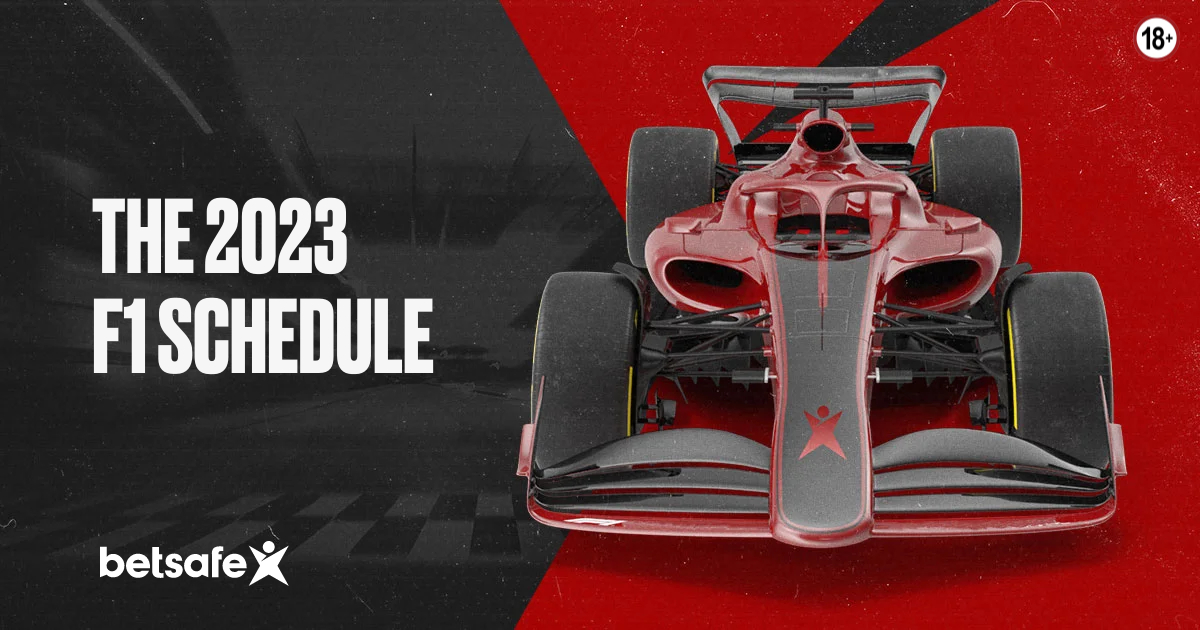 It seems like only a few weeks ago the 2022 season ended, and here we are already into another season of Formula 1. There are a few changes to the upcoming season but we can start by taking a quick look at what happened last year. 
---
---
F1 Highlights of 2022
The 2022 season was dominated by one man, Max Verstappen, as he broke records on his way to recording his second successive drivers title. The fact that there were new regulations for the cars was always going to create some winners and some losers and as it turned out, the big winners at the start of the season were Red Bull and Ferrari. On the flip side, the biggest losers were Mercedes, who were well off the pace.
Verstappen and Leclerc went head to head at the beginning of the season with both winning two out of the first four races before things took a turn for the worse for Ferrari as a whole. Red Bull went on to win the next 5 races before Ferrari came back with a win at Silverstone courtesy of Carlos Sainz with Charles Leclerc following that success with a victory in Austria. Red Bull returned to dominance though and won the next nine in a row before George Russell got Mercedes solitary win of the season on the board in Brazil in the penultimate race.
The dominance of Red Bull and Max Verstappen was as much down to the driver as the car, with designer, Adrian Newey, having a huge impact on the success of the winning car. Mercedes were the biggest disappointment, but they also showed a lot of improvement as the season went on and should be stronger this year. A major positive was young Brit, George Russell, who had an excellent season, outscoring teammate and multiple World Champion Lewis Hamilton. McLaren and Aston Martin both had poor seasons and will be looking to do a lot better this time around.
This upcoming season should be even more exciting as Mercedes will undoubtedly be closer to Red Bull, and Ferrari should iron out some of their tactical mistakes. We can expect Red Bull to once again be the team to beat, but both Ferrari and Mercedes should be hunting them down. Max Verstappen will undoubtedly put up a strong defence of his title, his aggressive style of driving and winning mentality will ensure that he will not allow anyone to get the better of him easily.
There are a number of rookie drivers taking their seats for the first time including Nick de Vries. He had one drive last year, at AlphaTauri. Australian Oscar Piastri at McLaren and Logan Sargeant at Williams are also new drivers taking to the circuits in 2023. On the other end Sebastien Vettel, Daniel Ricciardo and Mick Schumacher will be going out of the roster. There is also a welcome return for German Nico Hulkenberg, who returns to Haas alongside Kevin Magnussen.
There is a new track for us to get excited about as Formula One returns to Las Vegas, with the cars blazing down the famous Strip in November this year.
This should be an amazing event overall, more than just a race and will surely become one of the highlights of the calendar. There are now 23 races in the calendar, more than ever before. There will be six sprint events added to the standard races with some changes to DRS making them even more interesting.
---
---
2023 Formula 1 Schedule
| | | | |
| --- | --- | --- | --- |
| Round | Date | Grand Prix | Country |
| Pre-season Testing | 23- 25 February | Sakhir Aramco Pre-Season Testing | Bahrain |
| Round 1 | 03 – 05 March | Gulf Air Bahrain Grand Prix 2023 | Bahrain |
| Round 2 | 17 – 19 March | STC Saudi Arabian Grand Prix 2023 | Saudi Arabia |
| Round 3 | 31 March -02 April | Rolex Australian Grand Prix 2023 | Australia |
| Round 4 | 28-30 April | Azerbaijan Grand Prix 2023 | Azerbaijan |
| Round 5 | 05 – 07 May | Crypto.com Miami Grand Prix 2023 | United States |
| Round 6 | 19 – 21 May | Gran Premio del Made in Italy e dell'Emilia-Romagna | Italy |
| Round 7 | 26 – 28 May | Grand Prix de Monaco 2023 | Monaco |
| Round 8 | 02 – 04 June | Gran Premio de España 2023 | Spain |
| Round 9 | 16 – 18 June | Grand Prix du Canada 2023 | Canada |
| Round 10 | 30 June – 02 July | Grosser Preis von Österreich 2023 | Austria |
| Round 11 | 07 – 09 July | Aramco British Grand Prix 2023 | Great Britain |
| Round 12 | 21 – 23 July | Hungarian Grand Prix 2023 | Hungary |
| Round 13 | 28 – 30 July | Belgian Grand Prix 2023 | Belgium |
| Round 14 | 25 – 27 August | Heineken Dutch Grand Prix 2023 | Netherlands |
| Round 15 | 01 – 03 September | Gran Premio d'Italia 2023 | Italy |
| Round 16 | 15 – 17 September | Singapore Airlines Singapore Grand Prix 2023 | Singapore |
| Round 17 | 22 – 24 September | Lenovo Japanese Grand Prix 2023 | Japan |
| Round 18 | 06 – 08 September | Qatar Grand Prix 2023 | Qatar |
| Round 19 | 20 – 22 October | Lenovo United States Grand Prix (Austin) | United States |
| Round 20 | 27 – 29 October | Gran Premio De La Ciudad de México 2023 | Mexico |
| Round 21 | 03 – 05 November | Rolex Grande Prêmio de São Paulo 2023 | Brazil |
| Round 22 | 16 – 18 November | Heineken Silver Las Vegas Grand Prix 2023 | United States |
| Round 23 | 24 – 26 November | Etihad Airways Abu Dhabi Grand Prix 2023 | Abu Dhabi |
---
Azerbaijan 28 – 30 April
An interesting track, as no single driver has won here more than once since it was added to the calendar in 2017. It was a Verstappen victory last year and the lap record is held by Charles Leclerc from back in 2019. This is another daytime race on a street circuit.
---
Miami 05 – 07 May 
This will be the second year Miami is hosting the Grand Prix following its successful introduction last year. Yet again this is another street circuit and is now the third race to take place in the US. Last year this race was dominated by Max Verstappen as well as the never ending list of celebrities on the track before and after the race. 
---
Emilia Romagna 19 – 21 May
Mid-May sees the first race take place in Europe at one of the world's most iconic tracks at Imola. This circuit was only added to the current calendar in 2020 as a replacement for cancelled events that year due to the pandemic. However, it proved to be such a success that it has remained on the calendar and will do so until at least 2025. Imola has hosted the Italian Grand Prix as well as the San Marino Grand Prix and the now named Emilia Romagna Grand Prix. The lap record is held by Lewis Hamilton, but Max Verstappen was the winner here last season. 
---
Monaco 26 – 28 May
Another one of the most iconic tracks in motor racing is Monaco, which first hosted a Grand Prix back in 1950. This much loved street track is probably the most famous and most associated with Formula One. It's a very tough and demanding track that requires total concentration. This event is not only about the racing, but also about the glamour and prestige that Monaco brings to the event. Aryton Senna remains the most successful driver at this track and Lewis Hamilton holds the lap record from 2021.
---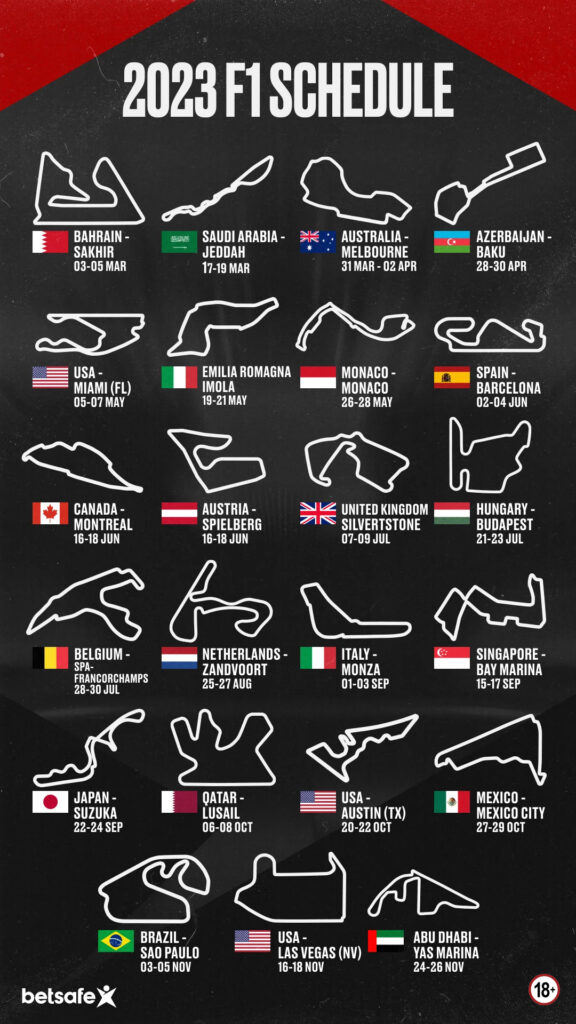 ---
Spain 02 – 04 June
The Barcelona circuit is another of the oldest tracks, hosting its first race in 1913. 2023 will be the 110th time the race will be held, but it has been at various locations over that time, moving to its current location in 1991. The most wins at the circuit is jointly held by Michael Schumacher and Lewis Hamilton.
Canada 16 – 18 June
An often eventful race, this much loved track made its return to the calendar last season after the restrictions of the pandemic over recent years. The first race was hosted here in 1961 and the lap record is held by Valtteri Bottas from 2019. Last year this was yet another win for Red Bull and Max Verstappen. 
Austria 30 – 2 June/July
This is another one of the old iconic tracks set in the spectacular setting of the Styrian Mountains. This is the home race for Red Bull, being an Austrian team, so the support here is always off the scale. Last year, however, the race was won by Charles Leclerc and Ferrari. The first Grand Prix to be held here was back in 1970.
Great Britain  7 – 9 July
Silverstone is one of the oldest tracks on the circuit, being in use since 1926. It remains one of the best tracks for outright racing fanatics though, allowing for some excellent battles and high class entertainment. The track always attracts amazing fans and is one of the favourites of many drivers. It is also the 'home' track for the majority of Formula One teams, which are mostly based in the UK even if they are owned by individuals and companies from all around the world. Lewis Hamilton is the most successful driver here and the home crowd loves nothing more than a British winner. 
Hungary 21 – 23 July
The first race was held here in 1936, but that was a one off, it wasn't held here again until the 1980s. Since 1986 though, the Hungaroring has been an ever present on the calendar and is a popular track with real racing enthusiasts. This is another track loved by Lewis Hamilton as he holds the track record and the most wins here. 
Belgium 28 – 30 July
Talk to any fan of motor racing and mention the Circuit de Spa-Francorchamps and their eyes will inevitably light up. This iconic track was one of the first on the original Formula 1 roster back in the 1950's. It has many long straights and challenging corners and offers a great spectacle for both those in attendance and watching at home. Michael Schumacher is the most successful driver at the track, a highlight of the summer sporting schedule. 
Netherlands 25 – 27 August
After being absent from the racing calendar for a long time, the Dutch Grand Prix made a triumphant return in 2021 and hasn't looked back since. Circuit Zandvoort is noted for its famous corners and with Max Verstappen so prominent in the sport, the fans are always out in full colour and big numbers for this noisy, eventful and fun race.
Italy 1 – 3 September
September will be the second time we travel to Italy this year, this time to Monza for the official Italian Grand Prix. This is traditionally the home of Ferrari and fans certainly make everyone aware of that. This is one of the most passionate and noisy tracks and they love nothing more than seeing a win for Ferrari. A race has been held here every year since 1949.
Singapore 15 – 17 September
This track is a night race around the spectacular marina. It is one of the most challenging races of the calendar and there has been a safety car deployed here in every race since 2008. This was Sebastien Vettel's favourite track, as he has more wins than any other driver here. 
Japan 22 – 24 September
Japan is often an eventful race with the weather often playing a part in proceedings. It is another afternoon track race and this year is the 60th anniversary. Michael Schumacher is the most successful driver at this track and Lewis Hamilton set the track record in 2019.
Qatar 6 – 8 October
This will be the second race in Qatar at the Losail Circuit just outside Doha. There was no race held there last year due to their efforts to host a certain football tournament, so this will make a welcome return. The track is set to be redesigned so not much is known about how different it will be compared to the previous race. 
USA 20 – 22 October
This is the original American Grand Prix, as there are now three on the calendar. The first Grand Prix was held here back in 1908, but Formula 1 hasn't always been the most popular sport in the USA, so the race hasn't been held on a consistent basis. Previously it ran at Phoenix and at Indianapolis, but now it seems to have settled on Austin.
Mexico 27 – 29 October
The fans here go wild for Sergio Perez, taking patriotism to another level as they fill the stands to cheer on their homegrown driver. This is another one of the older tracks on the calendar, with the race first being held here in 1962. George Russell holds the lap record here, set in 2021.
Brazil 3 – 5 November
Autrodromo Jose Carlos Pace is one of the more famous motor racing tracks in the world, better known as Interlagos. It has been an ever present on the calendar since 1972 and is normally a very important race as it has tended to be either the last or one of the last races in the season. Alain Prost holds the record for most wins, and George Russell got his maiden race win last season for Mercedes here.
Las Vegas 16 – 18 November
The third and final race to take place in the USA will be in the spectacular setting of Las Vegas. No expense has been spared when setting up this event. It will be a night race, which should only add to the drama and excitement. 
Abu Dhabi 24 – 26 November
The final race of the season has seen some drama in recent years, none more so than the controversial maiden championship win for Max Verstappen back in 2021. It was the first race to be held at night, starting at sunset and ending under floodlights. It has the potential to be decisive as it is the last race of the season. It has been held since 2009 and Lewis Hamilton holds the record for most wins here.
---